About Us
About GlovesForMe.com
GlovesForMe.com was developed to fill an obvious need for a selection of well-designed alternative therapeutic gloves.

After more than a decade in the Far Infrared Health market, we realized there's a huge need for a natural drug free therapy glove. So many of our customers have told us their personal struggles with chronic hand, finger and joint pain and how much FIR treatment has helped them. We decided we've got to provide the best products at the best price we can for them.

So the search began to find a high quality pair of far infrared gloves with good design and efficacy, yet still be cost effective.

We believe the selection of gloves and products we offer have superior therapeutic and/or supportive properties that won't break the piggy bank. We source gloves and products that last a long time and can still be used in combination with other therapies & medications.

We now work closely with a variety of FIR organizations to provide valuable customer feedback so that they can improve on gloves designs as they expand their product line. We believe we can provide the best far infrared therapeutic gloves available.

We want to listen to you too, as we strive to provide better-quality products and services.  If you have a request, we want to hear about it. Please send us your thoughts and suggestions by email. All ideas will be reviewed and considered for future improvements.

Thank you for your interest in our therapeutic products.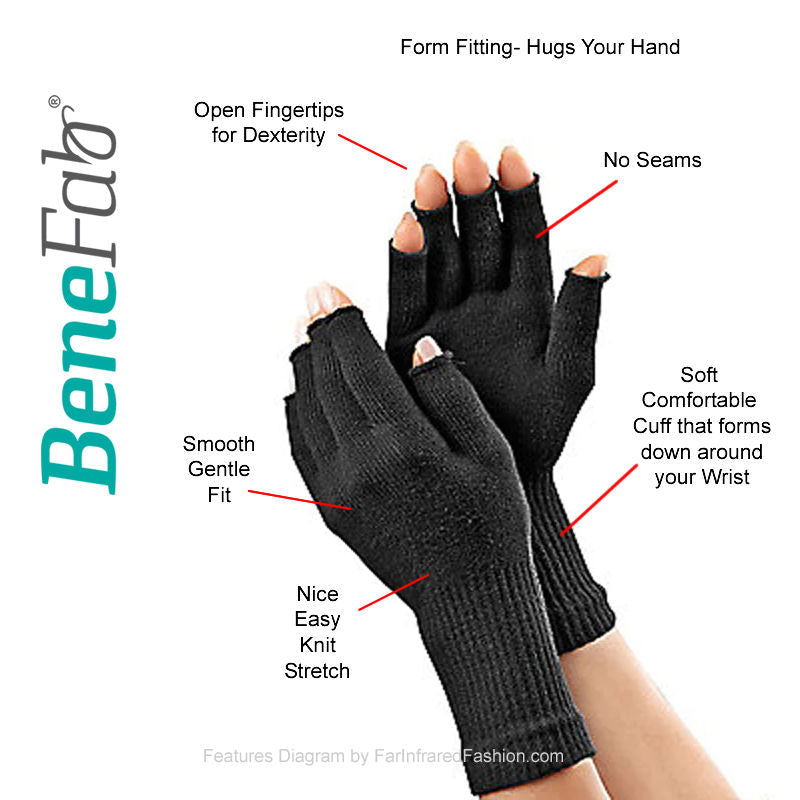 Open Finger Far Infrared Gloves
If you suffer from Trigger Thumb or Trigger Finger, these gloves are for
you. Why? Because the natural FIR energy actually reduces the
inflammation of the tendon sheath that is causing the your fingers to
snap, crackle and pop!
Shop Now