Raynaud's Syndrome Treatment
Raynaud's Syndrome is no joke!
Do Your Hands Hurt? Does Your Spouse, Family, And Friends Really Understand The Pain You Experience?
We recommend a safe, alternative treatment and stay away from harmful medications, chemical injection and yes, even nerve surgery (can you imagine!)
Fight Back With Far Infrared
Wearing alternative Far Infrared Gloves regularly will help reduce the pain and frequency of Raynaud's attacks.

Far infrared rays work by stimulating blood flow to the small capillaries in your hands.

Fight back against the long-term and damaging effects caused by Raynaud's.
Customer Message:

I went to the Doctor and they said I have Raynaud's Syndrome. Put me in a Splint for 2 weeks told me to take Aleve night and morning for 2 weeks charged $136.50 went back in 2 weeks said if it got worse she would scheldule me for surgery charged another $75.00. 2 months later recieved a bill for $36.45 for the splint. I ordered your gloves have worn them at night for 10 days and they have helped me sooooo much. I am going to order more of these gloves. Thank you Carla
Improve Circulation to Your Hands
Wearing Far Infrared Therapy Gloves on a continuous basis improves circulation to your hands.

Far infrared rays gently penetrate the soft tissues of your hands and begin a number of therapeutic processes that lead to the rejuvenation of tiny capillaries, blood vessels, and nerves.

FIR increases the delivery of fresh oxygen and nutrients thereby reducing the number of vicious Raynaud's attacks.
Infrared Gloves Makes A Difference
We are confident Far Infrared Therapy Gloves will make a difference in your struggle against Raynaud's.
Far infrared therapy is a natural remedy to help restore circulation to your hands and fingers, and, it's based on proven science.
Infrared Gloves Help Your Hands Stay Warmer
Far Infrared Therapy Gloves gently emit and reflect far infrared rays (FIR) deep into the soft tissues of your hands. This process helps to rejuvenate the damage done by Raynaud's.

Recurring Raynaud's attacks to the hands increase the likelihood of yet another occurrence. Far infrared stimulates the micro-circulation in your fingers and hands by a natural process known as "resonance absorption".

FIR increases the delivery of fresh oxygen and nutrients via the bloodstream, helping to repair the damage done by this debilitating condition. No other therapy can reach you at such a level. We're talking "micro" repair to your damaged blood vessels and capillaries. This is where actual rejuvenation begins.

Take a stand against the painful and damaging effects of repetitive Raynaud's attacks by wearing Far Infrared protective Therapy Gloves.
Study on Raynaud's Proves FIR Gloves Work
Based on a study that was published in the August 2002 issue of Alternative Medicine Review "Journal of Clinical Therapeutics", wearing far infrared gloves does help treat Raynaud's Syndrome,

RESULTS: Significant improvements were documented in both subjective measures of pain and discomfort and objective measures of temperature, grip, and dexterity of those who wore the far infrared "ceramic impregnated" gloves.


BOTTOM LINE: Results of medical study determined the efficacy of FIR gloves to relieve the symptoms of Raynaud's Syndrome.
On "Pins & Needles"
Far infrared can dramatically improve your "micro" circulation and result in better overall blood flow. Blood vessels in your fingers open up rather than constrict with the aid of Far Infrared Therapy Gloves. Far infrared works with the natural biogenetic energy of your body to help repair the damage caused by Raynaud's.

Combat the devastating symptoms of Raynaud's syndrome by wearing Far Infrared Therapy Gloves. Far Infrared Health products are an affordable, effective and easy way to relieve the pain and misery Raynaud's.
Light "Therapy" At The End Of The Tunnel
Far infrared light Rays helps to repair your circulatory system. What could be better than that?

This natural light therapy harmonizes with your body's energy to produce positive and rejuvenating effects.

Pain and swelling are reduced, while damage done to your circulatory system is repaired.
What to do, if you have Raynaud's
Protect yourself from the cold. If you smoke, consider giving it up. Try cutting back on your daily intake of caffeine beverages, such as coffee. Make sure to drink at least the recommended daily amounts of fresh water. The more hydrated you are, the faster and more effective far infrared therapy is.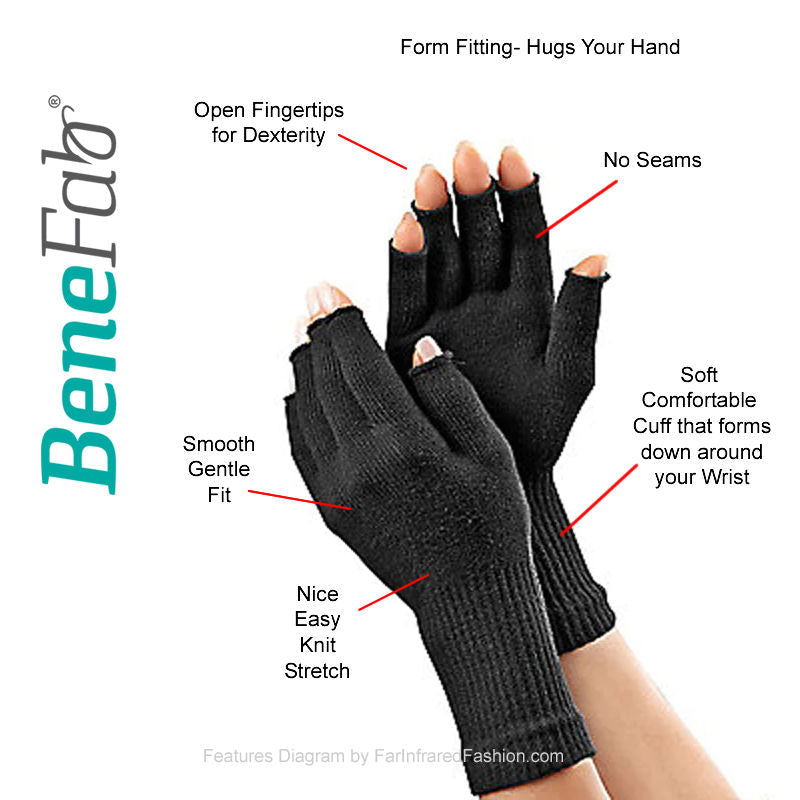 Open Finger Far Infrared Gloves
If you suffer from Trigger Thumb or Trigger Finger, these gloves are for
you. Why? Because the natural FIR energy actually reduces the
inflammation of the tendon sheath that is causing the your fingers to
snap, crackle and pop!
Shop Now