Carpal Tunnel Syndrome
What is Carpal Tunnel Syndrome?
If you're searching to find out what Carpal Tunnel Syndrome is, or more to the point, what the signs and symptoms of Carpal Tunnel are, then maybe this can help...
Why Do My Wrists Hurt So Much?
The root of the problem causing most of the pain and numbness in your hand, fingers, and thumb is pressure on the median nerve. So what is the median nerve?

The median nerve passes through a narrow confined space in the wrist to your hand. It provides the motor and sensory functions to your thumb and fingers. When the nerve becomes squeezed or compressed it causes a variety of symptoms including pain, tingling, loss of feeling and control.
How does the median nerve come under pressure?
It is a direct result of overworking your forearms, wrists, and hands by performing repetitive motion tasks for long periods of time.

The stress and strain of constantly doing the same thing with your hands eventually cause the nine tendons that run through the carpal tunnel to become swollen.

When the tendons swell (swollen tenosynovium) from overuse they press on the median nerve. This can cause tingling, numbness, loss of feeling and pain in your thumb, index and middle fingers.
Do You feel like you're losing your grip?
If you have difficulty holding a cup of coffee, or your hands ache (like you know what) when trying to put the keys in the door, or feel numb while carrying on with daily tasks. And you're waking up to find the aggravating feeling of "pins & needles" numbness in your hands, then you may have severe carpal tunnel symptoms.
Carpal Tunnel Gloves.
Far infrared therapy is a natural remedy to help alleviate and heal the symptoms of Carpal Tunnel Syndrome and it's based on proven science.
Far infrared therapy is a natural remedy to help alleviate and heal the symptoms of Carpal Tunnel Syndrome and it's based on proven science.
Do your hands continue to become worse with soreness, tingling, and pain?
You might be thinking the soreness and pain will eventually go away. But, most often it doesn't. Matter of fact, it just becomes continually worse, until your doctor probably recommends an invasive "release operation". Can you avoid it? That would depend on the severity of your condition.

Do something now to help prevent the need for the surgical release operation. Check out the CARPAL TUNNEL Gloves. Wear the CTS Gloves for 90 days, risk-free.

Wear them as often as you like. The more you wear these new Carpal Tunnel Gloves, the more the far infrared energy soothes the painful swelling and discomfort in your hands and wrists.
Limited time Offer
Special Discount Coupon for the Stretchy Knit Full Fingertip Gloves
Think of it this way. How much can you afford to lose? Your income? Your Self-esteem? The trust of your employer? If you become a liability to them because of loss of productivity or the threat of compensation, then they're going to figure a way to get rid of you.

Wouldn't it make more sense to get help now, rather than try and stave off the inevitable? If you do nothing to reduce the swelling of tendons and soft tissues within the carpal tunnel of your hands, then you will eventually be faced with a carpal tunnel release operation.
Don't believe me? Then ask your physician and don't be surprised at the answer?
Many doctors will tell you that a carpal tunnel release operation is simple, doesn't take long and is not a complicated procedure. But according to whom? You could have to wait for six months before it heals. Can you afford that? Can your children, spouse, and those who rely on you? Can they get by okay while you're sitting around waiting to heal?

The experts say that the actual cause of Carpal Tunnel Syndrome is unknown. Well, okay, I guess that's an acceptable answer, considering everyone's reason for developing the condition is different.

Bottom Line: If you perform the same repetitive movements with your hands for long hours a day in and day out, then you will eventually develop some degree of carpal tunnel syndrome.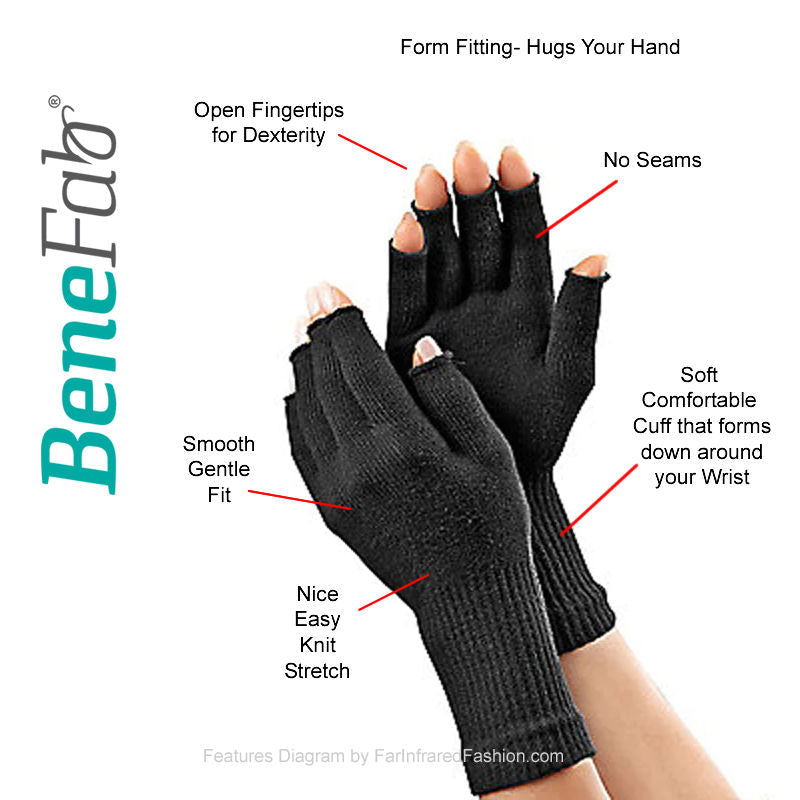 Open Finger Far Infrared Gloves
If you suffer from Trigger Thumb or Trigger Finger, these gloves are for
you. Why? Because the natural FIR energy actually reduces the
inflammation of the tendon sheath that is causing the your fingers to
snap, crackle and pop!
Shop Now