Far Infrared Therapy
What is far infrared therapy?
No need to worry! Far infrared therapy is completely safe. It has nothing to do with either ultraviolet radiation (which gives you a sunburn and damages your skin) or atomic radiation (the kind from a nuclear bomb).
Far Infrared light rays increase blood circulation, and subsequently the oxygen supply to damaged tissues in your hands and fingers. Increased circulation results in the reduction of chronic pain and swelling, and promotes the healing process.
How Can Far Infrared Therapy Gloves Help Me?
Decreases joint stiffness. Relieves muscle spasms. Increases blood flow. Protects against Raynaud's attacks. Prevents pain and stiffness of finger joints. Helps relieve the effects of Carpal Tunnel Syndrome. Increases the extensibility of collagen tissue. Reduces inflammation and relieves pain.
Far Infrared Products = Healthy Blood Vessels & Arteries
When the normally smooth, firm lining of your arteries becomes thickened and roughened by deposits of fat, fibrin, calcium and cellular debris, it lessens the arteries ability to expand and contract and slows the blood movement through narrowed channels. These conditions make it easier for blood clots to form, blocking the arteries and stopping blood flow completely.
Far infrared (FIR) is able to neutralize blood toxicity and smooth the walls of arteries, capillaries, and veins. Once this happens, the delivery of fresh nutrients and oxygen to repair and vitalize your hands is enhanced.
Easy to Wear
Wearing Far Infrared Therapy Gloves on a regular basis is probably the easiest way to genuinely improve the health and beauty of your hands.

And... they are affordable, compared to other hand care products that only last one session.
How Far Infrared Gloves Can Benefit You!
Improved blood circulation Better oxygenation of tissues Improved mobility of bones and joints Reduced inflammation and pain in muscles and joints
Far Infrared Therapy Gloves emit and reflect health promoting far infrared light rays. This action increases your white blood cell count. And why is this good? More white blood cells equal greater immunity. Greater immunity means improved health and a better quality of life.
Why Far Infrared? Why Now?
Today we're seeing new technologies employing far-infrared energy in healing devices and health care products. Clinical protocols, for hypothermia, cancer treatment, and detoxification, utilize far-infrared therapy as well.

Far-infrared energy warms your fingers and hands to speed healing. Why is infrared heat better than say, compression or insulated gloves? Because the vibration energy of far-infrared light is unlike that of the heat energy. It dramatically improves circulation by activating your circulatory system.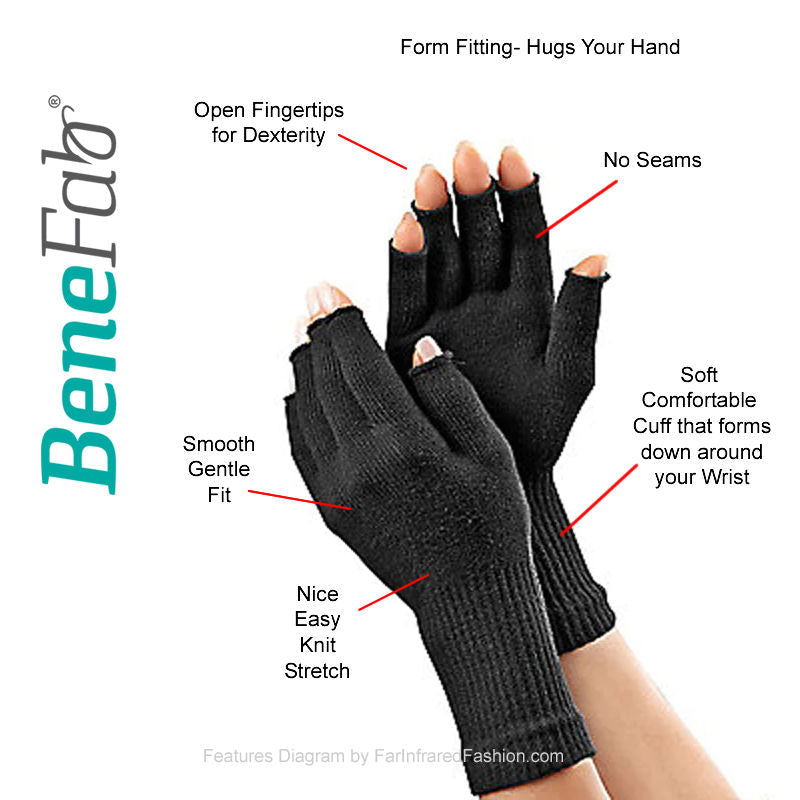 Open Finger Far Infrared Gloves
If you suffer from Trigger Thumb or Trigger Finger, these gloves are for
you. Why? Because the natural FIR energy actually reduces the
inflammation of the tendon sheath that is causing the your fingers to
snap, crackle and pop!
Shop Now