Exchanges
Exchanges & Returns
Yes, you may exchange the items you ordered from GlovesForMe.com for a different size.
We offer a generous 90 days guarantee from date of purchase.




Exchanges:
    There are no administration fees if you need a different size or would like to exchange your goods for a different product.
    We will even pay for the shipping of the goods back to you.
    You will need to pay the postal fee for mailing it back to us.
    Please follow the instructions below.

Refunds: If you are not completely satisfied, you may return the item(s) within 90 days from the original purchase date for a refund.


    All refunds are subject to a 15% administration fee.
    You will need to pay the postal fee for mailing it back to us.
    Original shipping fees will not be refunded unless there was an error on our part.
    NO refunds on any manufactured seconds.
    Allow up to 45 days for processing refunds.

Exceptions:
    Manufacturer defective or flawed merchandise.
    Please contact the customer services dept for procedure details.
 Guidelines & Instructions:
Step 1)

Request your Return Authorization Number (mandatory).
 

For prompt customer service please provide: 

Your Full Name

Your Full Address 

Your Phone Number

Your Order Number

The Date of your order

The Contents of your order
 - Product Code, Color, Size

If the garments have been worn

The reason you are requesting an RA#

When submitted, your request is emailed to our returns department for approval.
 
When approved, you will be emailed a return authorization number. (please check your junk folder for the email if you do not find it in your in-box.)

If your return request is denied, you will be notified as to the reason. All decisions of the returns department are final.
 

Step 2)

Download, print, fill out and include this RETURN FORM  (PDF File) inside your package.



FREE
Adobe Acrobat Reader for PDF files

Click Adobe Icon for PDF FILE Reader

Step 3)

Include a copy of the original invoice.

Step 4)

Carefully package the goods in a sturdy envelope or box.

Step 5)

First Class Mail   to our Returns Department:
(updated Dec-2022)

GlovesForMe.com
RETURNS DEPT
c/o PO Box 4371
Smithers, BC V0J2N0
Canada

Step 6)

Display your Return Authorization Number (RA#) prominently on the outside of the package or box to avoid processing delays. (Your personal RA# will have been emailed to you from step 1).

Step 7)

US and INTERNATIONAL CUSTOMERS:
 When using the US Postal Service Customs Declaration Green or White Sticker form (supplied by your postal outlet) please include the following:

Write "RETURNING CANADIAN PRODUCT" in the description box.

Customs Value = $0.00

A Sample of Customs Form from postal outlet:

For full USPS Customs details from the USPS website go to  https://www.usps.com/international/customs-forms.htm

Returned items must be prepaid and sent by mail (First Class Mail is best as more expensive choices get stuck at customs).

Sorry, We cannot accept packages that are sent by courier.
 

Upon receipt of the returned merchandise in accordance with the policies listed above and within 90 days of the original purchase date:

    we will exchange the items for a different size or
    will credit your Credit Card or PayPal Account or
    send you a refund check or
    apply the credit to your account here with us that you may use towards future purchases.

CLICK HERE to request a Return Authorization Number.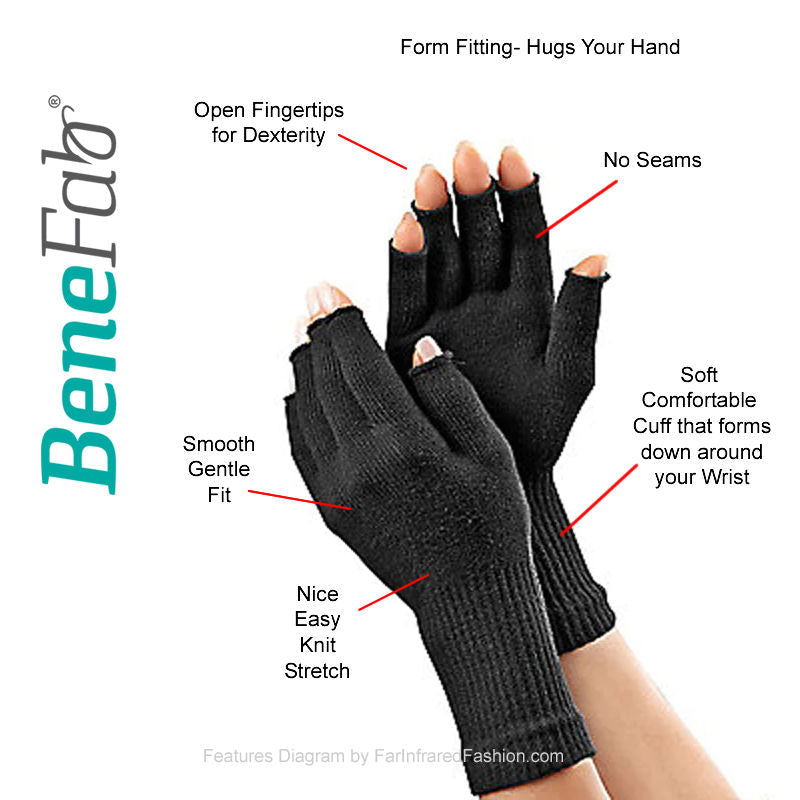 Open Finger Far Infrared Gloves
If you suffer from Trigger Thumb or Trigger Finger, these gloves are for
you. Why? Because the natural FIR energy actually reduces the
inflammation of the tendon sheath that is causing the your fingers to
snap, crackle and pop!
Shop Now