Medical Research
Medical Research for Far Infrared Therapies
There have been numerous studies on the therapeutic effects of FIR products. One clinical study done by Dr. Gordon Ko and Dr. David Berbrayer at Sunnybrook and Women's College Health Science Centers at the University of Toronto, published in the August 2002 issue of Alternative Medicine Review "Journal of Clinical Therapeutics", showed that there are significant improvements in both subjective measures of pain and discomfort associated with Raynaud's Syndrome.
Far Infrared Therapy Inhibits Vascular Endothelial Inflammation via the Induction of Heme Oxygenase-1
Chih-Ching Lin, Xiao-Ming Liu, Kelly Peyton, Hong Wang, Wu-Chang Yang, Shing-Jong Lin, William Durante
Correspondence to William Durante, Ph.D., Department of Medical Pharmacology and Physiology, M409 Medical Science Building, University of Missouri-Columbia, One Hospital Drive, Columbia, MO 65212. E-mail durantew@health.missouri.edu
Abstract
Objective— Survival of arteriovenous fistulas (AVFs) in hemodialysis patients is associated with both far infrared (FIR) therapy and length polymorphisms of the heme oxygenase-1 (HO-1) promoter. In this study, we evaluated whether there is an interaction between FIR radiation and HO-1 in regulating vascular inflammation.
Methods and Results — Treatment of cultured human umbilical vein endothelial cells (ECs) with FIR radiation stimulated HO-1 protein, mRNA, and promoter activity. HO-1 induction was dependent on the activation of the antioxidant responsive element/NF-E2-related factor-2 complex, and was likely a consequence of heat stress. FIR radiation also inhibited tumor necrosis factor (TNF)-α–mediated expression of E-selectin, vascular cell adhesion molecule-1, intercellular cell adhesion molecule-1, monocyte chemoattractant protein-1, interleukin-8, and the cytokine-mediated adhesion of monocytes to ECs. The anti-inflammatory action of FIR was mimicked by bilirubin, and was reversed by the HO inhibitor, tin protoporphyrin-IX, or by the selective knockdown of HO-1. Finally, the anti-inflammatory effect of FIR was also observed in patients undergoing hemodialysis.
Conclusions — These results demonstrate that FIR therapy exerts a potent anti-inflammatory effect via the induction of HO-1. The ability of FIR therapy to inhibit inflammation may play a critical role in preserving blood flow and patency of AVFs in hemodialysis patients.

Read the Full Study ...
http://atvb.ahajournals.org/content/28/4/739.full?sid=377d2015-19ae-4fa0-bea5-9adf1334269a
PubMed, available via the NCBI Entrez retrieval system, was developed by the National Center for Biotechnology Information (NCBI) at the National Library of Medicine (NLM), located at the National Institutes of Health (NIH).

In Vivo. 2000 Mar-Apr;14(2):321-6. Related Articles, Links Effects of far-infrared ray on reproduction, growth, behavior and some physiological parameters in mice.

Udagawa Y, Nagasawa H.

Experimental Animal Research Laboratory, Meiji University, Kanagawa, Japan.

The effects of chronic exposure to far-infrared ray (FIR) on reproduction, growth, behavior, survival time and some related parameters were examined in SHN mice. The reproductive parameters differed slightly between the females on the normal racks and those on the FIR racks, which emitted FIR from the ceiling. The age and body weight on the day of vaginal opening was lower in the experimental mice born and maintained on the FIR rack than in the control on the normal rack. In both sexes, the levels of urinary components in the experimental group was significantly higher than the control at 6-7 months of age. Spontaneous motor activity of females during the light and dark phases were higher and lower, respectively, in the experimental group than the control. The survival rate was significantly higher in the experimental group than the control.

These findings suggest that FIR has 'normalization effects' on the organisms.

J Cosmet Sci. 2002 May-Jun;53(3):175-84. Related Articles, Links Investigation of jewelry powders radiating far-infrared rays and the biological effects on human skin. Yoo BH, Park CM, Oh TJ, Han SH, Kang HH, Chang IS.
Skin Research Institute, Pacific Corp. / R & D Center, 314-1, Bora-ri Kiheung-eup, Yongin-si, Kyounggi-do, Korea 449-900.
Far-infrared rays have certain kinds of effects on the human body, especially on skin, blood circulation, and skin cell vitalizing. Some jewelry powders radiate far-infrared rays. Jade has powerful far-infrared ray radiation, and tourmaline has pyroelectric and piezoelectric properties and radiated far-infrared rays. The jewelry powders (fine powdered jade and tourmaline powders) were screened by far-infrared rays for radiation properties and tested for the effects of far-infrared rays on the human skin by temperature observation using an infrared thermal analyzer.

http://www.ncbi.nlm.nih.gov
In another study done by Hideyoshi Toyokawa, and others in Japan, using rats, published in the Experimental Biology and Medicine, showed that the FIR can improve wound healing significantly.

Otto Warburg was nominated for the Nobel Prize in 1944 for research concerning photosynthesis in connection with the chemotherapeutics of cancer and the use of x-rays. His subsequent research showed that far infrared (the heat radiation of the Sun) impacts cancer.

Dr. Masao Nakamura, of the O & P Medical Clinic in Japan, has reported great success with the use of far infrared treatment for whiplash, rheumatism, insomnia, menopause, sciatica, acne, shoulder stiffness, arthritis, ear diseases, gastroenteritis problems. ...

Dr. Toshiko Yamazaki, MD - author of "The Science of "Far-Infrared Therapies" - has extensively researched the uses of Far Infrared Therapy for natural body healing.
Studies Providing Effectiveness of Negative Ions:
U.S. Dept. of Agriculture A recent study by the U.S. Dept. of Agriculture found that ionizing a room led to 52% less dust in the air, and 95% less bacteria in the air (since many of the pollutants found in the air reside on floating dust particles).
The USDA also performed another study to test the effectiveness of negative ionization at removing airborne Salmonella Enteritidis. The negative ions drastically reduced the airborne salmonella particles, prompting the following statement from the USDA:
"These results indicate that negative air ionization can have a significant impact on the airborne microbial load in a poultry house and at least a portion of this effect is through direct killing of the organisms ."
Agriculture Research Service (of USDA) The Agriculture Research Service of the U.S. Dept. of Agriculture tested the effectiveness of ionizers for removing dust in a poultry hatchery. The dust level is very high in such an environment. In this study, the use of an ionizer resulted in dust removal efficiencies that averaged between 81.1 ~ 92.2%. The airborne transmission of salmonella (to the eggs) was also significantly reduced as a result.
Summary of Study: https://www.ncbi.nlm.nih.gov/pubmed/11198431
Journal of Hygiene Scientists showed that ionization reduced bacterial levels in burns and plastic surgery units by over 96% after a two - week period, which results in much better and more rapid healing of patients.
Journal of Applied Microbiology The use of negative ions was even found by scientists to reduce the presence of airborne viruses by about 40%. A study featured in the 1987 issue also showed the negative ions are free from any adverse side effects.
Science A 1976 study featured in this publication provided evidence that negative ions can have a biologically lethal effect on airborne microorganisms.
Journal of Hygiene A 1979 study found that using negative ionization in the air protected chickens from airborne infection of the deadly Newcastle Disease Virus.
Journal of Food Protection A 2001 study found that airborne negative ionization was highly effective at destroying airborne and surface salmonella.
Far infrared promotes wound healing through activation of Notch1 signaling.
FIR stimulates keratinocyte migration and proliferation.
Read the Full Article: https://www.ncbi.nlm.nih.gov/pubmed/28831511
Negative Charged Ions are Effective in Treating Cancer (Cited from High - Voltage Treatment published by Youth Publishing)
In 1950; Dr. Haskell applied Negatively Charged Ions to patients of Hypertension. Amazingly, Negative Ions were proven to have a positive effect in lowering one's blood pressure, while no beneficial effects were observed with Positive Ions. Negative Ions are also effective against influenza, asthma and especially bronchial disease. Another study done b y the University of Frankfurt involved a "Cancer Team" in order to further study the physical effects of Negative Ions to cancer cells. Different types of cancer cells were transfused into the bodies of mice. In order to have a base of comparison, one group of mice was put into a negative ion environment each day while the other group remained untouched. As a result, the mice in the negative ion environment lived, on average, for 59 days, while the mice that were untreated lived no longer than 34 days. The mice from the experimental team lived 25 days longer; some even lived as long as 80 days! The experiment's result confirms the effectiveness of Negative Ions in treating cancer.
"Negative Air Ions Stimulate Mitochondria" Institute of Theoretical and Experi mental Biophysics, Russian Academy of Sciences, Pushchino, Moscow Region, Russia. http://www.cryonet.org/cg i - bin/dsp.cgi?msg=12330
Other Negative Ion Benefits
Asthma, Allergies, and other Respiratory Problems and Illnesses. Many scientific studies have been conducted over the years (mostly in Europe and Russia) showing how exposure to high levels of negative ions drastically or significantly reduce asthma and allergy symptoms, as well as respiratory - related illness.
Studies have also shown a link between negative ion treatment and benefits for the following:
Migraine Headaches
Inhaling negative ions regulates the production of serotonin inside the brain. The overproduction of serotonin inside the brain is the cause of migraine headaches.
Depression A study at Columbia University suggested that negative ion treatment is more effective than anti-depressant drugs such as Prozac and Zolof, and there are no side effects with negative ions.
Fatigue
The overproduction of serotonin (chemical produced inside the brain) also causes fatigue, and negative ions regulate the production of serotonin inside the brain.
Sleep
A study in France found that negative ionizers helped people to sleep better, by regulating the production of the chemical serotonin in the brain.
Mental Performance and Concentration
Several tests have shown people exposed to negative ion treatment perform much better in mentally - oriented activities than those who are not.
Physical Performance
Due to test results performed by Russian scientists, negative ionizers were always installed in the locker rooms and resting places for the Russian athletes.
Burns
Studies performed in one hospital found that burn patients were far more likely to recover more quickly and thoroughly.
Effects of far infrared therapy on arteriovenous fistulas in hemodialysis patients:
Abstract
BACKGROUND:

Far infrared (FIR) therapy may have a beneficial effect on maturity and function of arteriovenous fistulas (AVFs) in hemodialysis (HD) patients. Therefore, we performed this pooled analysis to assess the protective effects of FIR therapy in HD patients.
METHODS:

The randomized controlled trials (RCTs) and quasi-RCTs of FIR therapy for HD patients were searched from multiple databases. Relevant studies were screened according to the predefined inclusion criteria. The meta-analyses were performed using RevMan 5.2 software (The Cochrane Collaboration, Oxford, UK).
RESULTS:

Meta-analysis showed that FIR therapy could significantly increase the vascular access blood flow level (MD, 81.69 ml/min; 95% CI, 46.17-117.21; p < .001), AVFs diameter level (MD, 0.36 mm; 95% CI, 0.22-0.51; p < .001), and the primary AVFs patency (pooled risk ratio = 1.24; 95% CI, 1.12-1.37, p < .001). In addition, therapy with FIR ray radiation could decrease AVFs occlusion rates (pooled risk ratio = 0.20; 95% CI, 0.08-0.46; p < .001) and the level of needling pain (pooled risk ratio = 0.08; 95% CI, 0.06-0.10, p < .001).
CONCLUSIONS:

FIR therapy can reduce AVFs occlusion rates and needling pain level, while significantly improve the level of vascular access blood flow, AVFs diameter and the primary AVFs patency.
Far infrared ray (FIR) therapy: An effective and oncological safe treatment modality for breast cancer related lymphedema.
Abstract
BACKGROUND:

The incidence of breast cancer related lymphedema is approximately 5%. Far infrared ray (FIR) treatment can potentially reduce fluid volume and extremity circumference as well as the frequency of dermato-lymphangitis (DLA). However, there is no published data on the oncological safety of FIR and the potential for activation of any residual breast cancer cells. The aim of this study is to investigate the safety of far infrared ray (FIR) treatment of postmastectomy lymphedema, clinically and in vitro.

METHODS:

Patients who underwent mastectomy more than 5years ago complicated by upper extremity lymphedema for more than 1year were included. The enrolled patients were divided into an FIR treatment group and a control group (conservative treatment using bandage compression). Outcome measures included tumor markers (CA153, CA125), ultrasonography of relevant structures and monitoring for adverse reactions 1year after treatment. For the in vitro part of the study, the effects of FIR on human breast adenocarcinoma cell lines (MCF7, MDA-MB231) compared to the effects of FIR on human dermal fibroblasts as a control were considered. The viability, proliferation, cell cycle and apoptotic statistics of the adenocarcinoma and human dermal fibroblast cell lines were analyzed and compared.

RESULTS:

Results demonstrated that after treatment with FIR, tumor marker (CA153, CA125) concentrations in both the FIR and control groups were not elevated. There was no statistically significant difference between FIR and control group marker expression (p>0.05). Furthermore, no patients were diagnosed with lymphadenectasis or newly enlarged lymph nodes in these two groups. Importantly, there were no adverse events in either group. The in vitro experiment indicated that FIR radiation does not affect viability, proliferation, cell cycle and apoptosis of fibroblasts, MCF-7 and MDA-MB-231 cells.

CONCLUSIONS:

FIR should be considered as feasible and safe for the treatment of breast cancer related lymphedema patients 5years after mastectomy.
FIR does not promote recurrence or metastasis of breast cancer and is a well-tolerated therapy with no adverse reactions.

Copyright © 2017. Published by Elsevier B.V.
https://www.ncbi.nlm.nih.gov/pubmed/28535427
Far-infrared ray for treating chronic lower extremity lymphedema with dermatolymphangioadenitis: a postoperative complication of gynecological tumor resection.
Abstract
PURPOSE:

Lower extremity lymphedema is regarded as a relatively common postoperative complication and is often accompanied with dermatolymphangioadenitis (DLA). This study combines clinical assessment and laboratory investigation to explore therapeutic effects of far-infrared radiation (FIR) therapy for chronic lower extremity lymphedema accompanied with DLA, occurring after gynecological tumor resection.

METHODS:

Patients who met inclusion and exclusion criteria would be enrolled. They received regular sessions using the FIR therapy machine over the 4-week treatment course. Clinical and laboratory outcome measures were carried out before and after treatment. Clinical outcome measures included DLA seizure frequency (episodes/year), patients' subjective feedback for lymphedema-related symptoms and quality of life (QOL). Laboratory outcome measures included bacterial cultures and concentrations of inflammatory cytokines: IL-1β, IL-2, IL-4, IL-10, IL-12, IL-18, TNF-α, TNF-β, caspase-1 and INF-γ, detected in serum and local lymphedema tissue fluid samples using protein microarray and ELISA.

RESULTS:

Between 2012 and 2016, a total of 120 female patients were screened for study enrollment. Sixty-four recruited patients underwent clinical evaluation both before FIR radiation therapy and 1 year after a single course of FIR radiation therapy. Eleven patients (17.2%), randomly chosen from the study group, underwent additional laboratory analysis of blood and local lymphedema tissue fluid samples. The frequency of DLA decreased following treatment (p < 0.001). Fifty patients (78%) did not experience a single episode of DLA recurrence in the year subsequent to treatment. The efficiency rate calculated using DLA frequencies was greater than 50% for 63 (98%) patients following treatment. Patients reported a subjective decrease in lymphedema-related symptoms (p < 0.05). Patients' QOL scores were higher after treatment (p < 0.001). Laboratory analysis showed an elevation in serum concentration of IL-1β after FIR therapy (p < 0.05) and reduced local tissue fluid concentrations of inflammatory cytokines IL-2, IL-10 and IL-18 (p < 0.05). Bacterial culture results before and after treatment were both negative.

CONCLUSION:

FIR radiation therapy provides an effective treatment modality for patients with chronic lymphedema accompanied with DLA that develops secondarily to treatment of gynecological malignancies, whose therapeutic effects may be due to reduced immune dysfunction within local lymphedema tissues.
https://www.ncbi.nlm.nih.gov/pubmed/28434105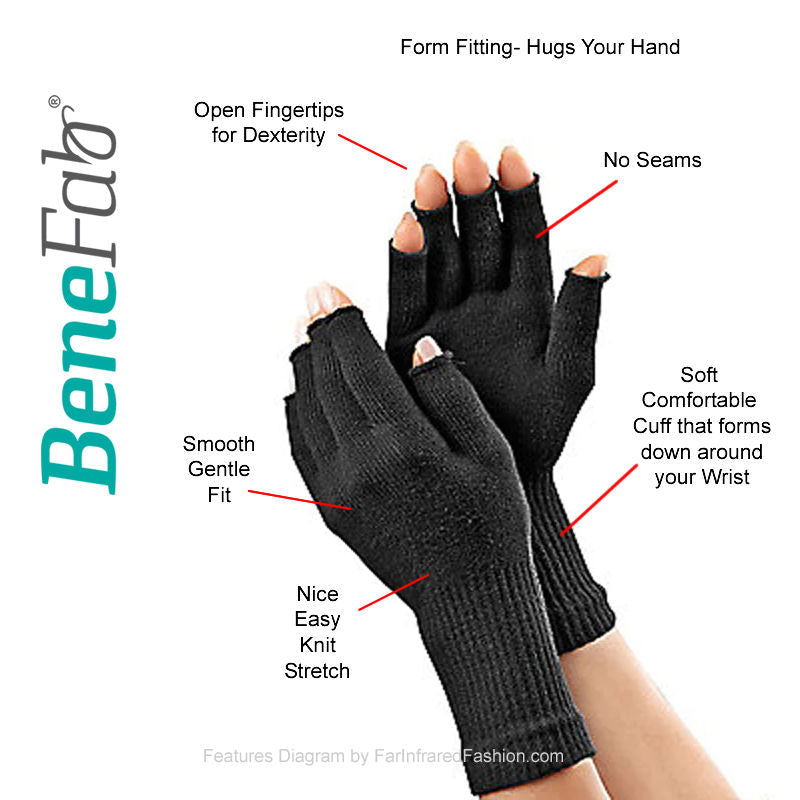 Open Finger Far Infrared Gloves
If you suffer from Trigger Thumb or Trigger Finger, these gloves are for
you. Why? Because the natural FIR energy actually reduces the
inflammation of the tendon sheath that is causing the your fingers to
snap, crackle and pop!
Shop Now