Carpal Tunnel Reviews
Real Reviews of Far Infrared Gloves from Customers Just Like You!
Message:
Dear Therapy Gloves,

Back on the website a week after receiving my first pair of open finger gloves to order another pair.

My gloves arrived in the UK within 6 days of ordering.

I have bad carpal tunnel syndrome in both hands, brought on during my first pregnancy.

After my first 24 hrs of continuous wear, I noticed a marked improvement in my condition.

I try to wear them continously during the day and always at night. Thanks to these remarkable gloves, I no longer have the awful numbness, tingling and worst of all, the sleepless nights with awful pain in my wrists and hands.

I would STRONGLY recommend these gloves to anyone battling the daily effects of CTS. Just wished I had come across them a long time ago instead of suffering in silence.

THANK YOU!

Sarah M., Isle of Lewis, SCOTLAND
Subject: Information on FIR Gloves

Message:
Dear Folks, About 6 mos. ago I was having pain in both hands which folks would not believe. I ordered a pair of your gloves, which allowed me to sleep nights until I could get to an M.D. , who found severe carpal tunnel. Since I have had surgery on both wrists correcting the problem. Believe me I was only able to exist by using those gloves. Thank You
John j. D.
Sarah J. wrote ..
I just wanted to say a HUGE thank you for changing my life with your amazing therapy gloves. I must admit that when I first bought them I was slightly skeptical as to whether they could really make that much difference. But after nearly 3 months of wearing them every night, the difference is incredible. I suffer from carpel tunnel syndrome, as do my mum and sister.

My sister has already had to have both her hands operated on to solve the problem, and I was beginning to get to the stage where I thought I would have to have the same done. I would wake nearly every night around 4.30 am because the numbness and pain in the hands/fingers would be unbearable by then. The only way to get the feeling back would be to get up and at that time of the morning it would be difficult, so I'd try to doze while all the time trying to shake off the pain, so I'd be tired most days through lack of sleep. Eventually I'd have to get up to get ready for work at 6.30 am and it would usually take up to 20 mins for the feeling to return in my hands, which was also extremely painful as the feeling come back. Trying to do anything when you can't feel your hands is extremely difficult, especially trying to make sandwiches!!!

Now, my life is completely transformed. I sleep right through to my alarm clock, there is almost no tingling in my fingers, hands, no more swollen fingers when I get up, no more numbness. I can feel again. It's just so wonderful. I wanted to let you know, so that you can maybe add this as a testimony for other people who are maybe not sure.

Once again, thank you and don't ever stop making them.

Sarah J.
Brentwood, Essex, England
I just would like to tell you that when I ordered the gloves for my husband earlier this year, He has noticed a difference. He had put the gloves to a test. He wore them one night & he did not wake. He did not wear them the next night & his hands woke him. For now the gloves are working for him. There is going to be a day when he is going to have surgery on one of his hands.
The gloves do work & I gave the brochure to my girlfriend for her husband. Thank this company for making a product that will relieve some of the Carpal Tunnel Symptoms. Vicki C.
Subject:
What I like about FIR Gloves

Testimonial:
I bought the Therapy Gloves as I have Carpal Tunnel and did not wont surgery or injections (I'm such a coward) Well they are perfect they have almost made my pain go away so much so that I could not find them the other night so I tried to sleep without the gloves what a mistake that was I awoke in the middle of the night in such pain I was crying, so now I am buying a second pair so if I do mislay them I have a back up pair on standby as I never wont to be with out them again. Thank you so much. Best Wishes Sue L.
Fareham England UK

Yes that would be wonderful, I look forward to reading it soon and getting my new gloves which I would be lost without and I really do mean that Thanks for a fantastic product. Very best wishes Sue xXx
Do something now to help prevent the need for the surgical release operation.
Try our Far Infrared Therapy Gloves for 90 days, risk-free. If you're not totally convinced our gloves have made a positive difference in your life, you may return the items for a refund.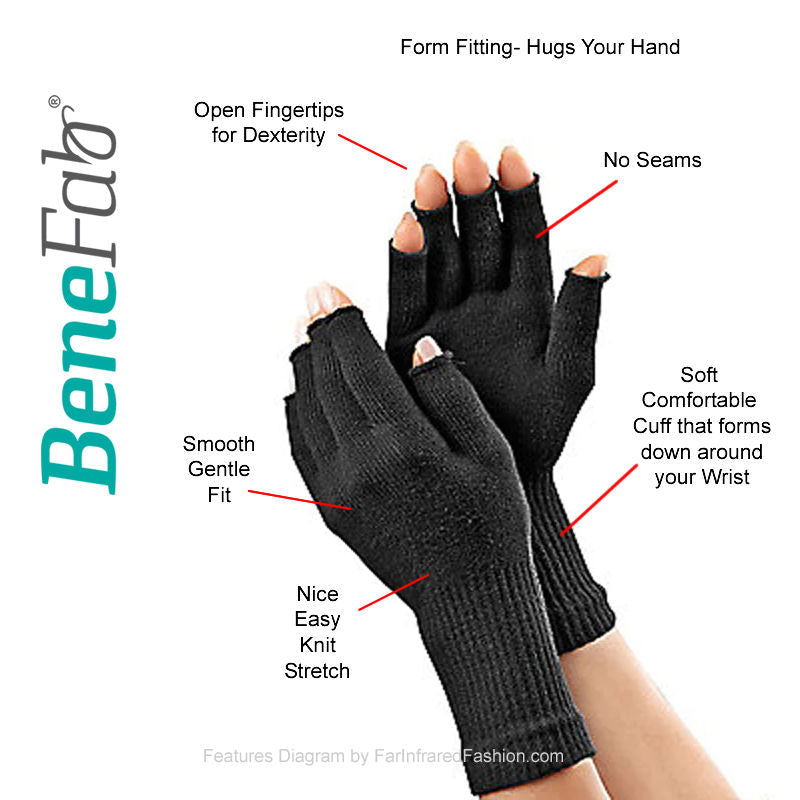 Open Finger Far Infrared Gloves
If you suffer from Trigger Thumb or Trigger Finger, these gloves are for
you. Why? Because the natural FIR energy actually reduces the
inflammation of the tendon sheath that is causing the your fingers to
snap, crackle and pop!
Shop Now