Terms & Conditions
General Rules and Information:
GlovesForMe.com is for your personal use only. Access to and use of this Site are subject to the following terms and conditions and all applicable laws.

Your Acceptance of these Terms and Conditions:

By entering GlovesForMe.com, you accept and are bound by these Terms and Conditions without limitation, qualification or change. You represent that you have read and agree to these Terms and Conditions at all times while using GlovesForMe.com. If at any time you determine that you do not accept all of these Terms and Conditions, you must immediately discontinue use of GlovesForMe.com and destroy all materials and copies of materials obtained from GlovesForMe.com. You may not use GlovesForMe.com in any way that involves a failure to abide by any Term or Condition. These Terms and Conditions apply to all proprietary pages, images, text, programs, and other material available throughout GlovesForMe.com.

Product Descriptions:

GlovesForMe.commakes every attempt to be as accurate as possible. However, GlovesForMe.com does not warrant that product descriptions or other content of this Site is accurate, complete, reliable, current, or error-free. If a product offered by GlovesForMe.com itself is not as described, your sole remedy is to return it in unused condition.

Electronic Communications:

When you visit GlovesForMe.com or send e-mails to us, you are communicating with us electronically. You consent to receive communications from us electronically. We will communicate with you by e-mail or by posting notices on this site. You agree that all agreements, notices, disclosures and other communications that we provide to you electronically satisfy any legal requirement that such communications be in writing.

Disclaimer of Warranties and Limitation of Liability:

GLOVESFORME.COM MAKES NO WARRANTIES OR REPRESENTATIONS ABOUT THE ACCURACY OR COMPLETENESS OF THIS SITE'S CONTENT OR OF THE CONTENT OF ANY SITE OR SITES LINKED TO THIS SITE. THIS SITE AND ANY SITE OR SITES LINKED TO THIS SITE ARE PROVIDED "AS IS" WITHOUT WARRANTIES OF ANY KIND, EITHER EXPRESSED OR IMPLIED, INCLUDING, BUT NOT LIMITED TO, THE IMPLIED WARRANTIES OF MERCHANTABILITY, FITNESS FOR A PARTICULAR PURPOSE, OR NON-INFRINGEMENT OF THE RIGHTS OF THIRD PARTIES. YOU EXPRESSLY AGREE THAT YOUR USE OF THIS SITE IS AT YOUR SOLE RISK.

GLOVESFORME.COM, ITS AFFILIATES, THEIR DIRECTORS, OFFICERS, EMPLOYEES, SHAREHOLDERS, AGENTS OR ANY OTHERS INVOLVED IN THE CREATION OF THE SITE SHALL NOT BE LIABLE FOR ANY DAMAGES OF ANY KIND INCLUDING, BUT NOT LIMITED TO DIRECT, INCIDENTAL, CONSEQUENTIAL, INDIRECT, SPECIAL OR PUNITIVE DAMAGES ARISING OUT OF ACCESS TO OR USE OF ANY CONTENT OF THIS SITE OR THE CONTENT OF ANY SITE OR SITES LINKED TO THIS SITE, INCLUDING BUT NOT LIMITED TO GLOVEFORME.COM'S NEGLIGENCE, YOUR ACCESS TO AND USE OF THE SITE, THE UNAVAILABILITY OF THE SITE, ERRORS OR INACCURACIES CONTAINED ON THE SITE, OR THE DEFAMATORY, OFFENSIVE OR ILLEGAL CONDUCT OF, OR MATERIAL POSTED BY, ANY USER OF THE SITE, EVEN IF YOU HAVE ADVISED GLOVESFORME.COM IN ADVANCE OF THE POSSIBILITY OF SUCH DAMAGE. CERTAIN STATE LAWS DO NOT ALLOW LIMITATIONS ON IMPLIED WARRANTIES OR THE EXCLUSION OR LIMITATION OF CERTAIN DAMAGES. IF THESE LAWS APPLY TO YOU, SOME OR ALL OF THE ABOVE DISCLAIMERS, EXCLUSIONS, OR LIMITATIONS MAY NOT APPLY TO YOU, AND YOU MIGHT HAVE ADDITIONAL RIGHTS.

Site Policies, Modification and Severability:

Please review our other policies, such as our privacy policy, posted on GlovesForMe.com. These policies also govern your visit to GlovesForMe.com We reserve the right to make changes to our Site, policies, and these Terms of Use at any time. Updated policies will be posted on the Site. If any of these conditions shall be deemed invalid, void, or for any reason unenforceable, that condition shall be deemed severable and shall not affect the validity and enforceability of any remaining condition.

By visiting GlovesForMe.com you agree that the laws of the state of Nevada, without regard to principles of conflict of laws, will govern these Terms of use and any dispute of any sort that might arise between you and GlovesForMe.com or its affiliates.

Other Sites:

GlovesForMe.com may include links to other Internet sites, both related and unrelated to GlovesForMe.com, which may be of interest to users. GlovesForMe.com may not have reviewed these sites and is not responsible for the content or availability of these sites. Descriptions of or references to products or publications not owned by GlovesForMe.com on this Site or any linked site do not imply any endorsement of such products or publications by GlovesForMe.com. When visiting other sites you will be subject to the guidelines and conditions applicable to such other sites.

GlovesForMe.com is not responsible for or liable for any damage, including damage caused by viruses, to your computer, computer system, or other property, during or on account of access or use of the Site or any sites to which the GlovesForMe.com links.

Intellectual Property:

GlovesForMe.com and all of its contents, including but not limited to articles, other text, photographs, images, illustrations, graphics, product names, designs, logos, video material, audio material and software (collectively, the "Intellectual Property") are protected by copyright, trademark and other laws of the United States, as well as international conventions and the laws of other countries. The Intellectual Property is owned or controlled by GlovesForMe.com, our suppliers or our licensors. Any unauthorized commercial use of this Intellectual Property is prohibited.

International Users:

GlovesForMe.com is available internationally and may contain references to product or services not available in all countries. GlovesForMe.com does not market, nor does it intend to make available, all of its products or services in all countries.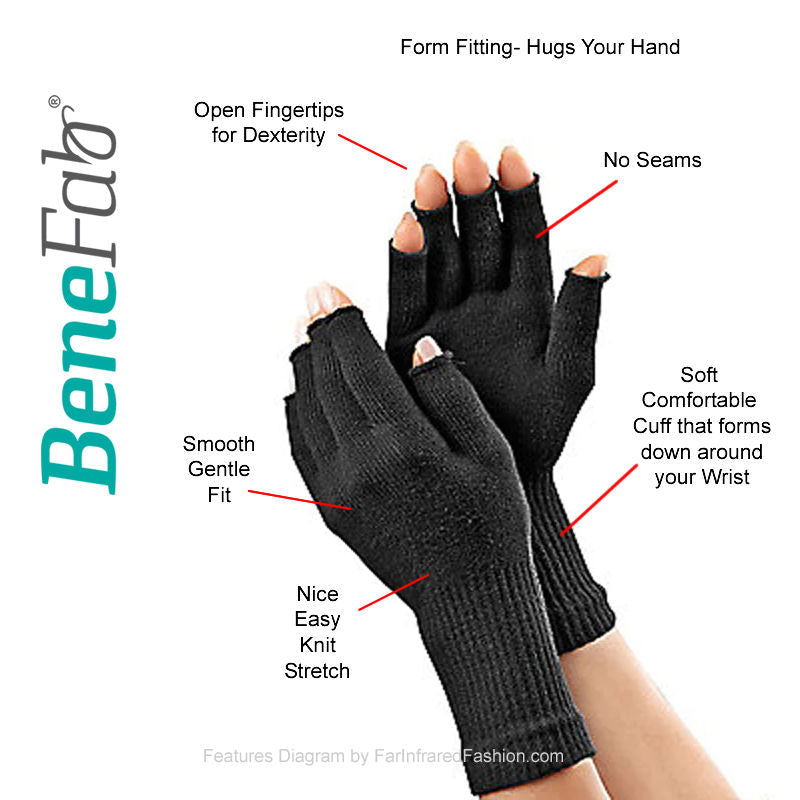 Open Finger Far Infrared Gloves
If you suffer from Trigger Thumb or Trigger Finger, these gloves are for
you. Why? Because the natural FIR energy actually reduces the
inflammation of the tendon sheath that is causing the your fingers to
snap, crackle and pop!
Shop Now